---
Vibrio
Take control of your lighting experience.
---
---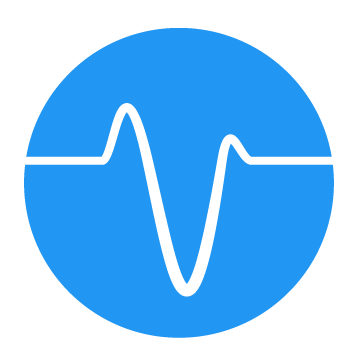 A lighting application finally built with you in mind.
Vibrio is a DMX lighting control software for the iPad. One intuitive solution to handle lighting for your venue or show. It connects to the lights wirelessly using an ethernet-to-DMX converter and the Art-Net protocol. We believe Vibrio bridges the gap between lighting programmers and designers by having a simple interface that even beginners can learn quickly. When designing Vibrio, we took the best features of high-end lighting consoles and brought them to the iPad.
---
"I've been lighting shows for over 16 years now and have used a lot of consoles. This is the best lighting control app I have found and am continuing to use."
– Phill Clark
"Vibrio is great! It provides streamlined design and playback capabilities that can make anyone a lighting designer."
– Paul Wedig
A user interface built for all.
We believe that an application should be intuitive enough for anyone to understand. Thus, when designing Vibrio we made it our goal to bring a clean and simple interface to the user. With completely custom iconography, familiar symbols and clear labels, Vibrio was designed just for you.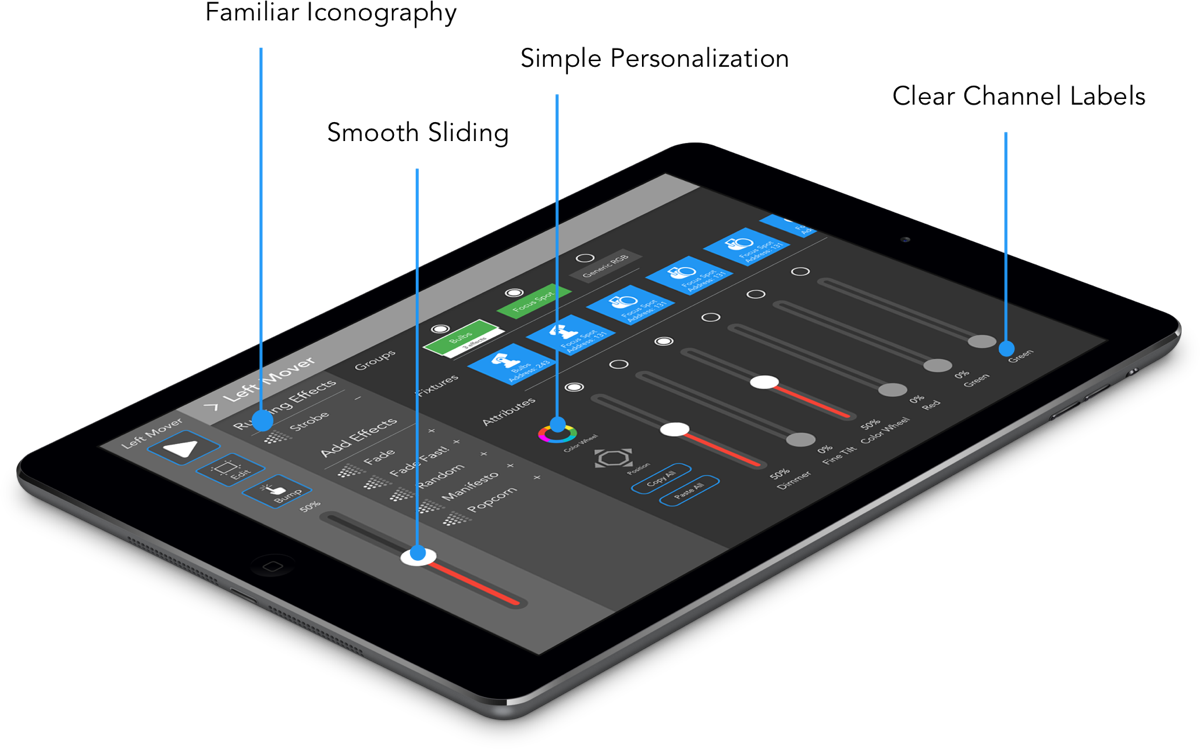 Manage Shows
Create and manage multiple shows for different events or venues and easily switch between them.
---
Fixture Library
We speed things up for you by including over 500 of the most popular fixture profiles.
---
Tap Tempo
Keep the lights running with the beat of the song with quick access to the BPM tap tempo.
---
Scene Layering
Run multiple scenes and sequences simultaneously! A Playing folder keeps track of what is running.
---
Effects Editor
Utilize a powerful, intuitive effects generator. Apply effects to your scenes with a simple tap.
---
Universe Visualizer
Quickly see exactly what values are sent to the fixtures by using the Visualizer.
---
Sequences
Join scenes together with custom timing to create a sequence. Our editor makes them simple to use.
---
Backup
Shows can be individually exported for backup or transferred to other devices.
---
Safe Mode
Let anyone run your show in a restricted environment.
How It Works
With just a tap of the finger your iPad seamlessly controls your entire stage light setup. In order for this to work, a signal must travel through a series of devices to reach your fixtures. Here's what you will need:

In order to wirelessly control your lights, Vibrio requires the use of an Ethernet to DMX adapter. While there are many compatible manufacturers, we recommend the Eternal Lighting EliteNet, Enttec ODE or the DMXKing eDMX1, as shown below. The DMX cable from the lighting fixtures and an ethernet connection from the router will plug directly into the adapter. The iPad must then be connected via Wifi to the router. Once this configuration is complete, Vibrio is ready to control your lights!